We went along with Ross and Pedro – two of our top Quartz / Granite fitters – to film them installing the Urban Quartz Bianco De Lusso
This product is one of our most popular Quartz colours at the moment, and its not hard to see why. Even with the traditional style of this kitchen you can get a beautiful effect that achieves a good blend of contemporary and country.
Arriving on site – first job of the day 8am!

When we arrived on site it was first a case of ensuring the temporary worktops could be removed easily.
Quartz going in!
Next Ross and Pedro set about bringing the Quartz worktops into the house
In this kitchen there are 3 sections of Quartz. Each section gets put into position, one after the other.
Sink is sealed into position
We seal the sink in at this stage and get the second piece of Quartz pushed up tight to the first section ready for the next stage
Joining first two sections and levelling
Absolutely crucial is how level the worktops are, this can be adjusted with the feet on the base cabinets and by using spacers.
Then once the worktops are level and meeting up with each other perfectly then we can begin to seal and create the resin joints.
Our customer was given the option of resin colour match, this can be made as white as possible or with an element of grey added. We do advise going towards a grey as the join is so small you won't see it, but the risk is to go pure white when this can go yellow over time.
Drilling hole for tap
Once the resin has set between the first two joints, we can now drill out the hole for the tap. Our customer was on hand to show exactly where they wanted this to go.
Joining and sealing last two sections
One thing we are very proud of at Rock and Co is how small and un-noticeable the joints are. This one is down to approx 1mm
Finising between the worktop pieces
During manufacture we allow for tolerances when on site by not finishing the bevel edges right down to where the worktop sections meet. This is best practise. And with the correct tools on-site it isn't difficult to get a showroom finish in both corners!
Completed worktop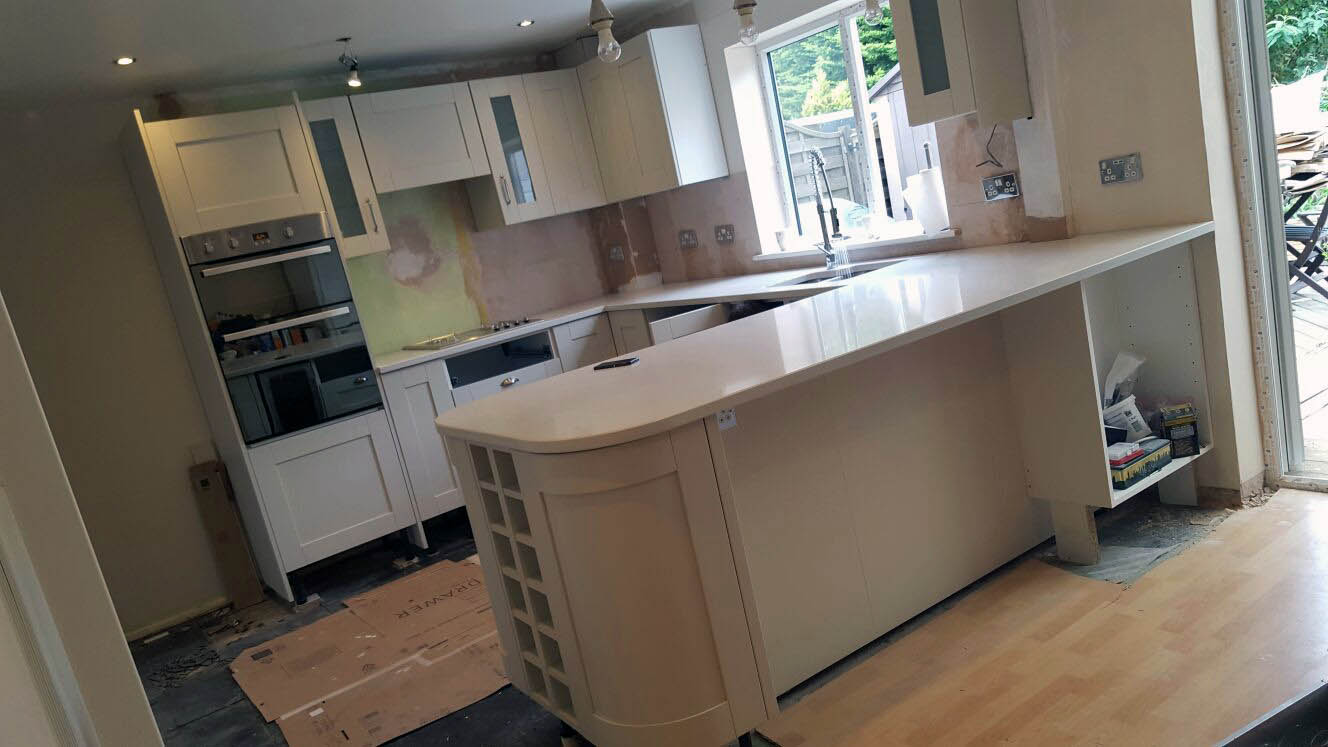 Top job carried out by Ross and Pedro…well done guys!