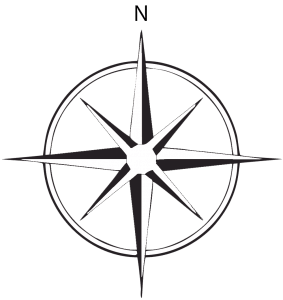 Sunlight with a north facing kitchen is less direct throughout the day and could get cooler in the evenings. Why not opt for a warmer tone palette to warm it up and make it feel cosy.
London Victorian or Georgian Terrace homes with bedrooms at the front and kitchens at the back, typically mean that the sun is received in the morning at the front, whilst the sun later sets over the back of the house. This means the kitchen will see the sun setting making it perfect to create a great mood for when entertaining guests. North facing rooms receive the least amount of natural light, and because there is no direct sunlight, it is generally a cold light that is felt.
The ideal colours for a north facing kitchen are medium- toned colours with warm undertones. These will counteract the cold light that enteres and introduces warmth that is missing. Colours such as yellow based hues, or creamy neutrals are perfect for this. There is a lot of choice when it comes to looking at a medium- toned palette and it is down to personal taste, period of the house and the mood you want to set when choosing that ideal colour. A perfect idea is white kitchen furniture that is contrasted with a warm wall colour, it creates a sophisticated look for a north facing kitchen. We have the perfect Quartz and Granite to compliment your kitchen.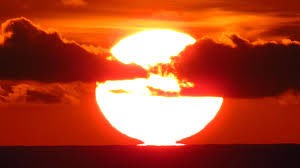 Not always white
When having a north facing kitchen, choosing the correct white is important! The effect can make your kitchen actually look smaller, if you were to choose furniture, worktops and wall colours in white. Warm whites with a yellow or creamy base will work great in your north facing kitchen.
Kitchen cabinetry can come in an array of colours and finishes, and to make a north facing kitchen perfect, choosing a warm based natural colour could be the best one due to it's undertones. Great to make the room feel warmer.
Dark colours work well too!
With the right undertone in the dark colour this can actually make your north facing kitchen appear bigger. Earthy tones with a warm undertone are perfect. For example an orange, red or brown wall. Whilst bolder colours do work it is important not to go too dark, as the lighting qualities in the room may not support the colour. Dark walls should always be contrasted with light cabinetry and furniture, whereas light wall colours will work well with both dark and light furniture.
If you do have a love for darker colours, do not let this put you off. You can choose any colours for your kitchen. Dark colours on the base units are perfect as these do not sit at eye level. Kitchens do not often include dark colours at eye level as this can overwhelm the units below. In a spacious kitchen this can work as you will have enough space.
You may want to create a pleasing contrast with some of the neutral or lighter tones. Other colours to consider for kitchen wall units are warm earthy undertones such as a cashmere colour, a grey or a gold bronze. Warm wood kitchens can be highly effective too for a north facing kitchen.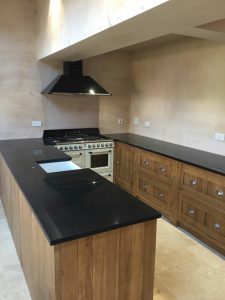 Our customer here has gone for a warm wood effect on their cabinetry with our timeless Nero De Lusso Quartz. This colour quartz is just what the industry needs to keep moving forward and offers a subtle sparkle.
Improving natural light in your north facing kitchen
If it can be done in your kitchen and you have some spare monies, maybe opting for a skylight or a glass roof can be perfect to let in natural light. A kitchen is used in everyday life for tasks and entertaining and the light is a very important factor to consider. It will be perfect for them summer nights and allowing the kitchen to get warmer.
Our customer here has opted for more natural light by adding a sky light over the breakfast bar and dining area. The bi-fold doors at the back of the room add even more light and improves the space. Our Calacutta Urban Quartz works wonders in this kitchen.
Colours that have been picked to try on the walls with a North Facing Kitchen
Brinjal- Farrow & Ball- a strong colour that will create a sense of intimacy in a dark space
Railings- Farrow & Ball- a strong colour that will create a sense of intimacy in a dark space
Down Pipe- Farrow & Ball- a strong colour that will create a sense of intimacy in a dark space
Blush Pink- Dulux
Copper Blush- Dulux
Butter Biscuit- Dulux
Perfectly Taupe- Dulux
Summer Linen- Dulux
Jasmine White- Dulux